What is the Florida Shuffle?
Well-intended federal laws such as the Affordable Care Act and the Americans with Disabilities Act are being exploited by unscrupulous individuals who profit off of the misery of addiction. Although there are many good drug treatment and sober living providers, the rogue rehab and sober home owners encourage relapse over recovery, to line their pockets through insurance fraud, patient brokering, kickbacks and other illegal activity. This is the Florida Shuffle.


Here's a diagram of the Florida Shuffle: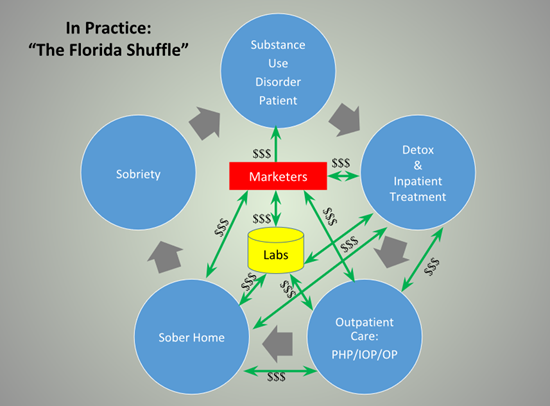 It starts with deceptive marketing practices, offers or inducements, such as a free one-way plane ticket to a rehab center. Today, 75% of all private-pay patients in Florida drug treatment centers come from out of state. Those who get caught up in the Florida shuffle too often leave in ambulances or body bags.
Once in rehab, the patient goes through a course of treatment covered by insurance. Together, the Affordable Care Act (ACA) and the Mental Health Parity and Addition Equity Act of 2008 provide coverage for drug rehabilitation on a traditional fee-for-service basis with no yearly or lifetime limits and with relapse always covered as an essential health benefit. During outpatient phases of treatment, the out-of-state patient, in need of a place to live, will be referred to a sober home, which is a group home for individuals in recovery. The Americans with Disabilities Act (ADA) and Fair Housing Act (FHA) together prevent the regulation or inspection of these residences, and so some are little more than flophouses where drug abuse, human trafficking and other crimes are prevalent.
Residents of sober homes are supposed to pay rent, but some sober home owners waive or reduce the rent in return for kickbacks from the outpatient rehab centers or labs, who charge insurers thousands of dollars to treat or test the urine of sober home residents. As demonstrated by the diagram above, all the participants of the Florida Shuffle receive a financial windfall (at the expense of other insurance policyholders and U.S. taxpayers). Sobriety is discouraged, as it is not profitable.
When insurance benefits are exhausted, outpatient care ends and the individual leaves the sober home. A relapse, however, will trigger a new round of treatment, so rogue providers seek profit through endless failure rather than sobriety. Under the ACA, there is no yearly or lifetime limit on rehab, so the corrupt providers are incentivized to keep addicts in a perpetual cycle of relapse and recovery until that person's death.


Thus, the federal government has not only enabled this crisis through its failure to act, but has actually made it worse through its policies. The ACA has done a lot of good by expanding the availability of drug rehab to the
more than 2 million Americans currently addicted to opioids
, but it is being exploited by corrupt providers who encourage an endless cycle of relapse because they are reimbursed on a fee-for-service basis: the more they fail, the more they get paid. The ADA has done a lot of good by protecting the rights of the disabled against discrimination, but now is being misused as a shield by rogue sober home owners who do harm to their residents.
Now that you've read this, you understand this problem better than most policymakers in Washington, DC. Until the federal government acts to Fix the Florida Shuffle, the Palm Beach County State Attorney's Office
will continue to lead the fight against these criminal practices
.
Since July 2016, our Sober Homes Task Force has cracked down on fraud and abuse in the drug treatment and sober home industries, with more than 100 arrests and 45 convictions thus far. The most encouraging news is that this initiative has helped cause a dramatic
41% decrease in opioid overdose deaths in 2018
, compared to 2017.
Of concern, however, is that the success of the Sober Homes Task Force has sent some of the criminal element in the drug treatment and sober home industries
scurrying to other communities and other states that are unaware and unprepared for the Florida Shuffle
. Thus, although this vicious cycle is called the "Florida Shuffle," it can take place anywhere.
Local and state law enforcement cannot solve this problem alone. This is a national crisis that deserves a federal response. Together, we can and will convince the federal government to Fix the Florida Shuffle.